BACCHUS SME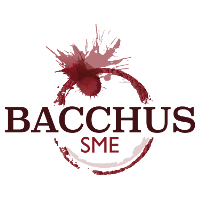 Organisational Diagnosis and B-Learning Tool for Enhancement of the Wine Tourism SME
BACCHUS SME is a European project conceived to develop a diagnosis tool and an innovative blended training course for providing initial or continuous training for Wine Tourism Small and Medium Enterprises (Wine Tourism SME).
BACCHUS SME project intends to develop and consolidate professional touristic skills in the wine sector, an industry that is now taking the first steps to stand out as a touristic product with a great impact in the partners' economies. A further aim is to foster the organizational development of the Wine Tourism SME in the viticulture regions of partnership. Furthermore BACCHUS SME project will raise awareness on relevant stakeholders and local development associations about wine tourism potential and wine production of their regions and will facilitate the development of other local and regional projects, in rural areas, enabling creation of a diverse, viable, and attractive tourist offer, based on unique details and magnificent and exceptional features.
One significant strategy is to support entrepreneurship and innovation in order to ensure sustainable development initiatives for wine tourism in the EU as well as to improve collaboration among stakeholders with the purpose of increasing the value of cultural and natural resources.
---
Duration
September - 2016 / December - 2018
---
Target Groups
Key actors & stakeholders in the wine sector such as winegrowers, wine producers, wine SMEs, wine (tourism) entrepreneurs and academic institutions with departments relevant to wine;
Local and regional development associations, tourism public bodies, wine tourism experts, VET representatives, consulters/trainers, and others.
---
Products and Outcomes
Reports and executive summary about SME Organisational Development (O1) ;
Reports and executive summary about Wine Tourism Sector (O2) ;
BACCHUS SME Learning Package and Diagnosis Tool (O3);
BACCHUS SME Platform - Diagnose Tool, b-learning Training Course (O4).
---
Project Partners
Coordinator:

CDE Petra Patrimonia (France)

Partners:
---
Website