ExReMet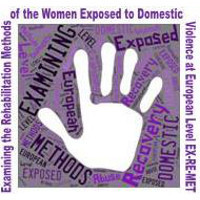 Examining the Rehabilitation Methods of the Women Exposed to Domestic Violence at European Level
The EX-RE-MET project intend to explore the different rehabilitation methods applied successfully in 6 European partner countries for the women exposed to domestic violence in order to see how the European countries could deal with the same problem and what are the effects of rehabilitation on women.
---
Duration
August - 2013 / July - 2015
---
Target Groups
EX-RE-MET target group is the professionals who deals with adult education and rehabilitation of the women exposed to domestic violence. EX-RE-MET project will contribute to their professional development through exchange of experiences on the women victims of domestic violence and their rehabilitation methods.
---
Products and Outcomes
EX-RE-MET Project Logo
EX-RE-MET Website;
EX-RE-MET Facebook page ;
EX-RE-MET Best Practices Handbook ;
EX-RE-MET Best Campaigns;
EX-RE-MET Project Leaflet;
EX-RE-MET Project Bag;
EX-RE-MET Project Final Short Movie;
---
Project Partners
Coordinator:

Project Management Association (Romania)

Partners:
---
Website