LARA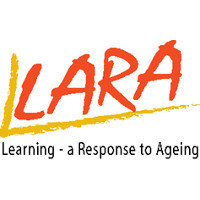 Learning -a Response to Ageing
The aim of the LARA project was to develop and pilot training to equip adult educators to create and deliver learning that is responsive to the demands and opportunities of ageing. Interim milestones were: the conduct of research; the development and delivery of courses for adults of all ages and of a training programme; the publication of a training manual.
---
Duration
December - 2008 / November - 2010
---
Target Groups
LARA stands for Learning a Response to Ageing. It is a Grundtvig multilateral project funded by the European Commission´s Lifelong Learning programme. Its target groups
Are trainers and adult educators on the theme of ageing and learning.
---
Products and Outcomes
The LARA research report
LARA courses for adult learners
The LARA training package for adults age
Training manual
The LARA newsletters
LARA Final Congress
LARA Film
---
Project Partners
Coordinator:

bia-net Netzwerk Bildung im Alter (Austria)

Partners:
---
Website