CINAGE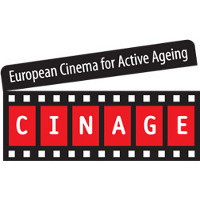 European Cinema for Active Ageing
Co-financed by the Lifelong Learning Programme, Grundtvig Multilateral, CINAGE offers exciting later life learning opportunities, engaging older people with critical analysis of European cinema and practical film making experience, and thus promoting Active Ageing.
During CINAGE Course, later-life learners shoot their own short-films, based on self-reflection on their life experiences and active ageing.
---
Duration
October - 2013 / October - 2015
---
Target Groups
It is meant for educators of older adults, adult education providers, older people, experts on active ageing and European cinema. Also meant to general public to raise awareness about active ageing and films' role in fostering its representations and how old age can be dealt with today.
---
Products and Outcomes
A Learning Manual for later-life learners
A Guide for Adult Educators & Later-life learning providers
Executive summaries on research and pilot actions
Factsheets of the 6 European films selected
12 CINAGE short-films
Factsheets of the 12 CINAGE short-films
12 situations and strategies to cope with active ageing
CINAGE Flyer.
---
Project Partners
Coordinator:

AidLearn, Consultoria em Recursos Humanos, Lda (Portugal)

Partners:
---
Website