PEER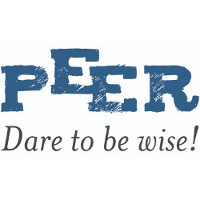 PEER – Dare to be wise!
PEER – Dare to be wise! is a Grundtvig multilateral project which aims to provide facilitation of informal and non-formal peer learning in online communities supported by customized Web2.0 tools for adults aged 50+.
---
Duration
October - 2011 / September - 2013
---
Target Groups
Operators of 50plus platforms
Organisations who want to augment their existing website by introducing user-friendly, Web2.0 tools in the domain of an ageing society, such as 3rd Age Universities, senior associations, care givers of older people and other organisations in this field.
---
Products and Outcomes
Guidelines for target groups: Pedagogical and technical aspects of setting up targeted online peer learning tools; available in the 23 EU languages, reviewed by platform operators and experts.
PEER Web2.0 tools in five languages (zip package) for adaption to own platform, supported by the guidelines documentation,
Handbook of quality assurance for the implementation of Web2.0 tools
---
Project Partners
Coordinator:

Zentrum fuer Soziale Innovation (Austria)

Partners:
---
Website