ForAge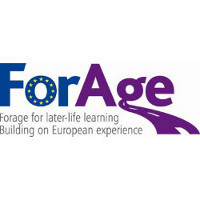 ForAge for later-life learning, Building on European experience
The project is a European multi-lateral network which has the central aim of promoting and communicating the experiences of lifelong learning for older people to create higher standards of practice throughout Europe. ForAge is designed to make wider and better use of all these rich experiences, building upon them, sharing information, analysing and assessing the value and impact on education and ageing policies, disseminating research evidence, and creating networks to do all this.
---
Duration
January - 2012 / March - 2015
---
Target Groups
Seniors who are interested in continuing to learn.
Organisations providing learning to seniors and realising projects targeting senior learning.
---
Products and Outcomes
To develop a European multi-lateral network concerned with learning in later life
To be an archive and access point for information
To promote informed discussion between practitioners, researchers, policy-makers and older people
To promote the development of learning in later-life, the exchange of good practice and the raising of standards throughout Europe
---
Project Partners
Coordinator:

Vaughan Centre for Lifelong Learning, University of Leicester (United Kingdom)

Partners:
---
Website