CoLED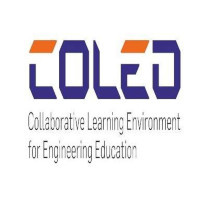 Collaborative Learning Environment for engineering education
The CoLED project is funded by the EU under the Erasmus + strategic partnerships for vocational education and training.
In the current times we are moving from an individualistic knowledge acquisition culture towards a collaborative knowledge creation culture of learning. Moreover substantive and widespread research has shown active and collaborative teaching methods increase student learning, and it is broadly accepted that almost any active or collaborative approach will improve learning outcomes as compared to lecture, the dominant pedagogical approach in Science, Technology, Engineering, and Mathematics courses. The general aim of CoLED is addressing issues mentioned above is to develop an innovative collaborative training approach including curricula and ICT training online collaboration learning solution in the field connected with introduction of automation for enterprises and other people interested in those areas.
So, it will focus on development of new dedicated ICT solutions integrated with eLearning platform supporting of collaboration learning, positive interdependence, individual accountability, face-to-face and online promotional interaction.
---
Duration
October - 2018 / September - 2020
---
Target Groups
The beneficiaries are
Entrepreneurs and employees of enterprises who want to enhance competitiveness of their companies as well as improve their qualification
future entrepreneurs and students who want to develop business in manufacturing sector
Universities and Research centres
VET trainers and VET providers that want to improve or update their learning curricula.
---
Products and Outcomes
Teaching Methodology - material that partners and TGs can use to effectively engage target groups in the design and delivery of collaborative online vocational courses including to facilitate co-creation of the learning process. Set of effective approaches, best practices and guidelines that partners and target groups can use to plan and organize VET trainings or increase VET students' and teachers' motivation.
Guidelines - Short summarized description of the platform functionalities and training materials elaborated.
Collaborative Training Platform - ICT platform supporting collaborative learning. CoLED platform will support group interactions, gamification of learning (achievements), group communication, evaluation of team tasks and projects, group discussions, identification of users activity (logs system) and other.
Automation for Manufacturing Training - Practice oriented, transferable and re-designable training and assessment resources that partners and target groups can use to deliver non-formal education integrated with learning designs, worksheets and resources for hands-on learning activities, and accompanied by pedagogical and assessment guidelines.
---
Project Partners
Coordinator:

Przemysłowy Instytut Automatyki i Pomiarów PIAP (Poland)

Partners:
---
Website