GET UP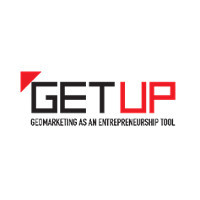 Geomarketing as an Entrepreneurship Tool
GET UP is an European project that aims to intervene at economic level, fighting the youth unemployment and promoting the self-employment.
GET UP project responds to the 2015 Action Plan for Entrepreneurship, it´s structured to ensure support to businesses and entrepreneurs throughout Europe helping to develop one's business, increase exports, create employment and rebuild economy. GET UP materializes this through a learning tool for youth to promote entrepreneurship by using new information and communication technologies (ICT), empowering participants with the knowledge and mechanisms to design their proper business models.
The main objective of the Project is to provide a GET UP Learning Platform to empower potential end-users, youth, under 25s, unemployed with secondary school or higher education diploma and young secondary or graduate people seeking first job, with new knowledge and competencies by attending GET UP B-Learning course, available in the GET UP learning Platform, about entrepreneurship, Geomarketing and location intelligence concepts to achieve their objectives and implement their business ideas, becoming entrepreneurs. They will have the ability to understand complex phenomena through the use of Geomarketing techniques by creating geographic relationships inherent in relevant spatial data and by learning how to use this concept as a management tool to attract investment and business.
---
Duration
October - 2017 / September - 2019
---
Target Groups
Youth (under 25s) unemployed or seeking for the first job with secondary school or higher education diploma;
---
Products and Outcomes
Research on Entrepreneurship (O1);
Research on Geomarketing (O2);
GET UP Learning Platform (O3).
---
Project Partners
Coordinator:

Libera Università Internazionale degli Studi Sociali Guido Carli (Italy)

Partners:
---
Website