Business Innovation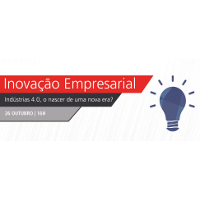 Industries 4.0, the dawn of a new era?
Venue: PIC - Portugal Industries® Center | Santo Antão | Batalha
Date: October 26th 2016
Marks the end of the InnoWork Project "Towards a more innovative Workplace ", which aims to create a more favourable environment for innovation in micro, small and medium-sized EU companies.
Former Minister Mira Amaral integrates the panel of guests, accompanied by the CEO of D. Dinis Business School, Vitor Ferreira, and the Director of Marketing and Innovation inCentea, Paulo Martins.
Program
15h45 - 16h00 | Welcome

16h00 - 16h15 | Opening session

Raul Castro – President of the Leiria Town Council
Maria Helena Antunes – Managing Partner of AidLearn, HR Consulting, Ltd

16h20 - 17h15 | Panel I

Luís Mira Amaral, Director of the Portuguese Society of Innovation
Vitor Hugo Ferreira, Executive Director of D. Dinis Business School and Professor at IPLeiria
Paulo Martins, Director of Incentea Marketing and Innovation
Moderator: Célia Marques, Celia Marques, Director of Leiria Económica

17h15 – 17h45 | Coffee break

17h45 – 18h45 | Panel II - Debate

18h45 – 19h00 | Closing

Fernando Sousa, President of the Portuguese Association on Creativity and Innovation (APGICO)
Organization