Creative Drama for Educational Development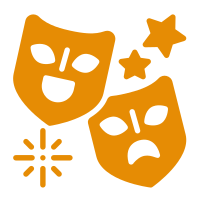 Creative Drama for Educational Development training course aims to improve the pedagogical competences of teachers in order to help students to learn about emotions, problem solving, and how to relate/communicate to other people (soft skills). Therefore, by experiencing with drama activities, students develop their imagination and their confidence. There is no "wrong" answers in creative drama and the imagination is a special feature addressed by the drama activities.
Creative drama is an improvisational, non-exhibition, process-oriented form of drama, where participants are guided by a leader to imagine, enact, and reflect on experiences real and imagined. Basically, creative drama is dramatic activities which have the experience of the participants as the goal. Creative drama can include dramatic play, story enactment, imagination journeys, theatre games, music, and dance. Imagination is the norm in creative drama class, since the emphasis in creative drama is the process rather than the product, teachers have the freedom to take as much time as needed with their classes.
The course includes 30 hours on artistic techniques to be used as pedagogical methodologies for educational development and a final presentation that incorporate the drama techniques learned in their teaching practices.
---
The course is designed to teachers, trainers and special education teachers that intend to use art as a pedagogical tool in the educational development of their students.
---
The development of technical and teaching skills of teachers, trainers and special education teachers in order to increase capacity to implement, in their professional practice, drama methods and techniques for managing and bring out students potential of learning.
More specifically, the aims are:
How to frame drama methods within educational context
How to use drama techniques as a teaching method for learning development
How to use drama techniques to develop students soft skills
---
---
AidLearn will send to each participant, at latest 4 weeks before training starts, the course guide and information regarding the site of the training course: how to get there, interesting touristic places to visit, lodging and food, and some Portuguese culture and language tips.
Each participant will prepare a slideshow presentation (PowerPoint or other) to introduce his/her organisation to others and what are the expectative to the training course. This presentation should be sent to AidLearn one week before the training starts.
---
The methodology established is based on the specificities of the participants, supported on technical and scientific principles of training. For this purpose, the methodology to be applied will appeal to a constructivist pedagogy focused on forming, using active techniques that allow each participant to experience situations similar to real scenarios of professional experienced in everyday life and business, and reflect on them. The methodological device to be taken in developing training mobilize the use of strategies that promote the questioning of the topics discussed and the active integration of knowledge in professional practices, and will be used as pedagogical techniques: training exercises and self-diagnosis; debates of ideas and clarification issues; group work; simulations; directed discussions; case analysis; practice.
---
The training course finishes with an evaluation questionnaire regarding the training course and organization. It is created a mailing list with all the participants: learners, trainers and coordinator, and they are encouraged to communicate with each other regarding the professional practice of what they learnt.
The participants are invited to join the AidLearn Facebook page dedicated to the training, so it is possible to everybody maintain contact with the group and with other participants in AidLearn training courses.
---
Day 1

Welcome / Ice breaking, outline of the course.
Presentation 1
Space/Time/Dynamic
Topography
Reflexion 1

Day 2

Individual Movement
Collective Movement
Imagination
Improvisation 1
Reflexion 2
Imagination
Improvisation 1
Reflexion 3

Day 3

Presentation 2
The Verb
The Action
Social visit
Social dinner

Day 4

Reflexion 4
Referential 1
Improvisation 2 (preparation)
Improvisation 2 (presentation)
Reflexion 5
Improvisation 3 (preparation)

Day 5

Presentation 3
Improvisation 3 (presentation)
Reflexion 6
Preparation of final presentation
Final Presentation
Final Reflexion
Farewell dinner
---
Course fee (5 days): 350€

Amount which includes preparation for the course, tuition, training materials, administration costs, AidLearn organizational costs.

Course Package (6 nights – single room): 850€

Course Package, which includes course fees (as above), lodging in single room for 6 nights with breakfast, lunches, visit, social dinner and farewell dinner, per person.

Course Package (6 nights – double room): 790€

Course Package which includes course fees (as above), lodging in a shared double room for 6 nights with breakfast, lunches, visit, social dinner and farewell dinner, per person.
---
The course may be cancelled if the number of registrations do not allow its economic viability.
Please do your pre-registration!